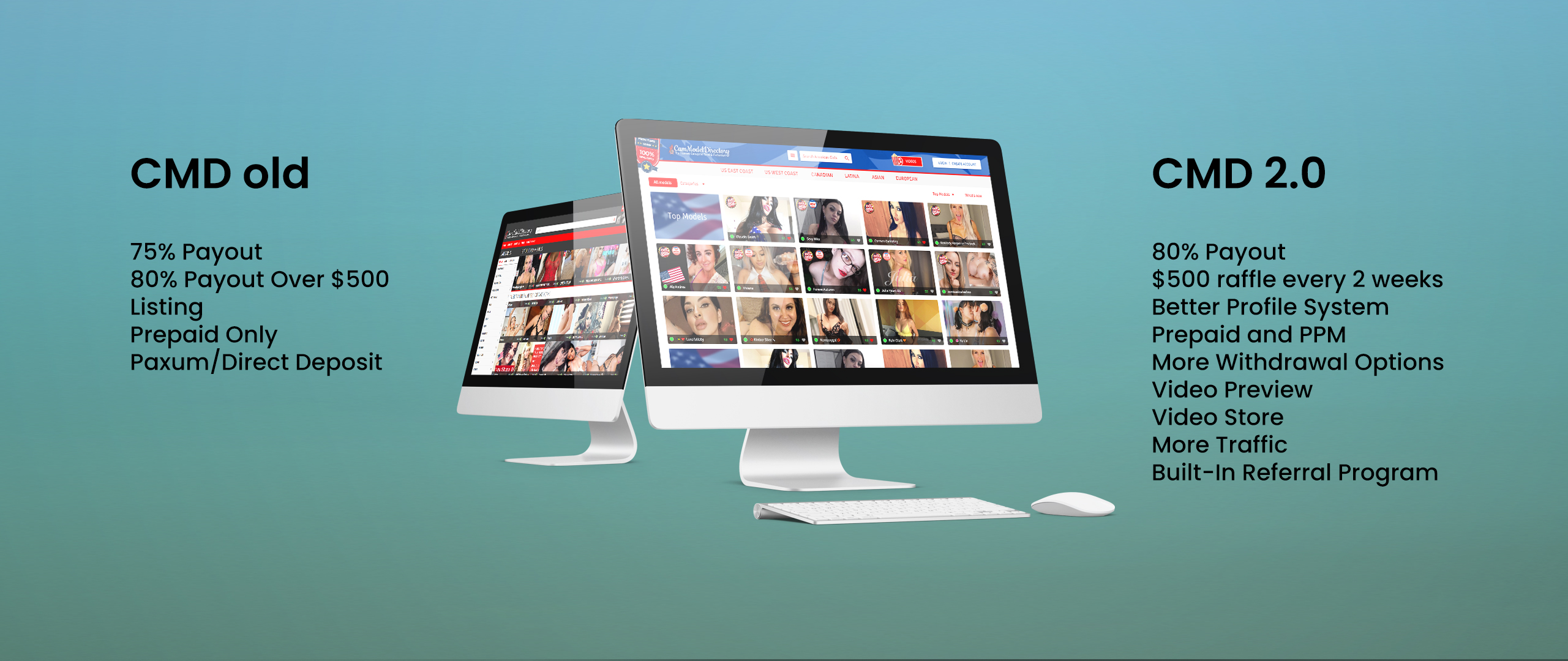 This Christmas, We bring to you CMD 2.0
what is CMD 2.0?
Imagine you are a driver and you drive an old car. This old car is running but does not have the newest technology and the best features. This is you using the old CMD (www.cammodeldirectory.com).
Now, we can try to repair the old car and bring new features to it and bring new technology to it. But this is a job that is 100x more difficult than to create a new car from zero – and it will also not be the fastest and nicest car because is old tech + new tech that not always work together.
So we decided to build you a new car. We call this CMD 2.0. It is built from zero and has many new features and technologies.

For the next months you will be able to drive both cars, the OLD CMD and the new CMD2.0. this means that you will keep your CMD-old profile and listings (displayed at www.cammodeldirectory.com) AND you will be able to drive the NEW CMD 2.0 too, meaning you need a brand new account and profile that will be displayed at www.cammodeldirectory.com/skype/

The plan is that in spring of 2022 to have all the traffic redirected to the new profiles you have at www.cammodeldirectory.com/skype/ and even though the old CMD profiles will still be available they will become irrelevant because they will not get traffic anymore, all traffic will be received by CMD 2.0 profiles.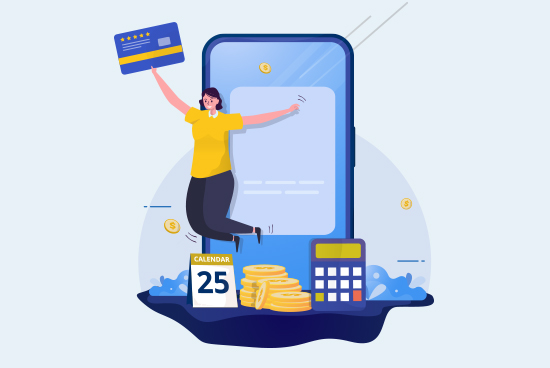 CMD 2.0 brings you:
86-80% Payout, $500 Bonus Raffles & more:
Being the first to try the new CMD platform comes with big benefits:
You get to keep by default 80%* of all the money you make on the new platform.(no $500 minimum earnings)
You can win a $500 bonus** every 2 weeks.
You get to choose the service you want to use: Skype or Discord, Prepaid or selling time-blocks via your Store, or even do Pay-Per-Minute calls (optional)
You can sell your videos and photo galleries or any other digital product with the video store option.
You can invite your whales and earn up to 86%. (you get extra 6% payout if you use refer-a-friend link to bring your members)
* The 80% payout rate is available until Valentine's Day 2022. ** The raffles will take place every 2 weeks until January 31. To be eligible for the raffle you need to earn more than $500 between raffle periods on CMD 2.0
Packed With the Features YOU've Been Asking For
We listened to your feedback and packed CMD 2.0 with your requested features:
1. Get More Traffic from affiliates CMD2.0 will bring
2. More Payout Options get paid via crypto & wallets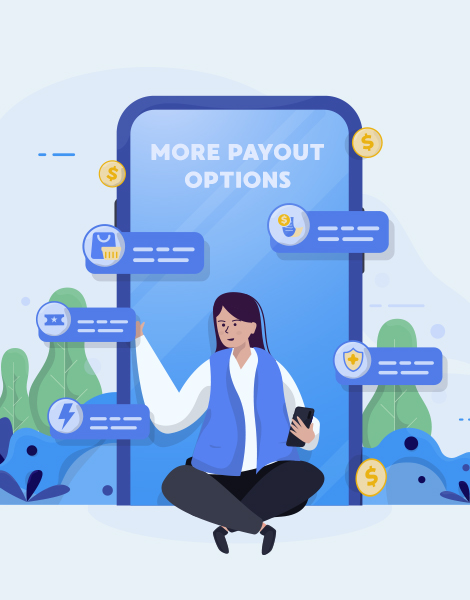 3.

Better Profile System
you can influence your ranking
4. Video Preview your profile will be more complex & complete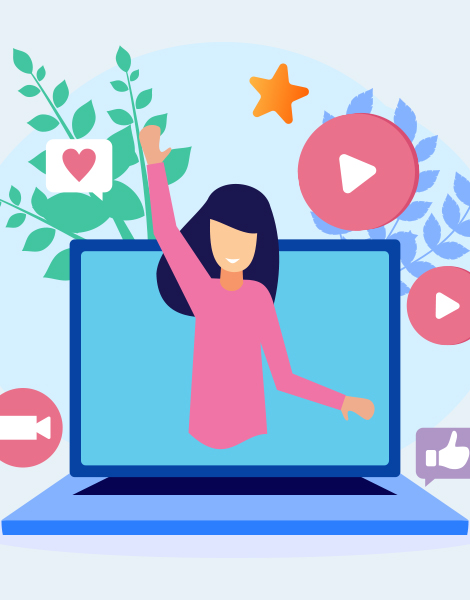 Subscribe to more news about the new CMD and more…
Stay on top of it all: get regular updates about CMD 2.0.
All your questions about CMD2.0 answered:
Am I forced to switch from CMD OLD to CMD 2.0? No, you can continue to use old profiles & system but why not ALSO create a new profile to the new system? you will have double the chance to get traffic. Plus that on the long run (we hope mid 2022) most of the traffic will go to CMD 2.0 profiles.
Does this mean I will have 2 accounts and 2 balances? Yes. you will keep CMD Old account with the original rules (like earn > $500/period to get 80% payout) and you will get a new account & balance on CMD 2.0 where you will get by default 80%* payout and it can go up to 86% if you invite your members
Am I required to do now pay-per-minute Skype calls? No. you can still sell time-blocks and prepaid skype/discord sessions. the new CMD20 does indeed have a skype plugin that can offer you the option to do calls charged per minute but only if you want to.
I am already a verified model in CMD old, do I need to register a new account? Yes but after you do this and get verified you will only need to create 1 public profile and not like before to create multiple listings. Of course you will have a store where you can add multiple videos for sale or digital items like time-blocks for sale (e.g. "15 min skype show for $45", "20 min discord show for $55" and so on)
Where can I login to CMD old? at this page https://cammodeldirectory.com/information/model-application/
Where can I login to CMD 2.0? at this page https://accounts.cammodeldirectory.com/register/
When do I get my money from CMD old balance? Nothing changes. automatically at the end of the period.
When do I get my money from CMD 2.0 balance? You need to make a withdraw request but you can do this everyday if you wish, no need to wait for the end of the period.
Where will my CMD 2.0 profile be displayed? in the list from https://cammodeldirectory.com/skype/
How will members be able to find my CMD 2.0 profile? we will redirect your old profile & listings to the new profile. Also step by step we will redirect traffic coming from the homepage menu and homepage list & categories to go to the new CMD 2.0 list of profiles
How will the members be able to pay? Members can buy a time-block directly from your account (store) or top-up and then prepay your private call via: debit & credit cards, BTC, ETH, USDC, LTC and soon we will add alternative payment methods like iDeal or Paysafecard.
What are the CMD 2.0 payout options? You can choose any of these: Paxum, Bitsafe, European Bank Transfer (SEPA) in EUR, ACH Bank Transfer (USA) and Domestic Bank Transfers by Directa24 (LATAM), Bitcoin, ETH ,Tether, International Wire Transfer (SWIFT) and Layer 2 crypto like ETH, USDT, USDC
Can I still bid to win a promoted spot in the profiles list? Yes, with an improved mechanism that will allow you to pay less (you pay the bidding price of the person that bidded bellow your bid). You will be promoted in the CMD old and CMD 2.0 lists.
What is the minimum price/minute I can set in my CMD2.0 profile? the minimum is $2.47/ minute and maximum is $12/min
What is the benefit of login in the skype plugin? you need to be online on skype + online (logged in) in the plugin to set your online status on the profiles
So, again, can I just ask for prepayments and/or sell time-blocks without ever using the plugin? yes, in the next months you will get the "online" status via the CMD-old but later on, at the end of 2022 and after, if you are not using the plugin you will not be able to set your profile as "online".
I am already using the Skype plugin on another site, can I be online on CMD 2.0 and on the other site too? For the time being you need to choose on what site will the plugin set you as being online. In the mid 2022 it is estimated that you will be able to use one plugin for skype to be online on multiple sites.
If I decide to use the plugin, can it help me charge per minute for Discord calls? As the answer above, this is not yet possible. The plugin is only compatible with Skype for the time being but in 2022 it will allow you to charge per minute Discord calls too.
Can I connect interactive sex toys (like Lovense) to my CMD 2.0 account? Yes but not right now, this will be available in a couple of weeks.
How can I discover bad members (scammers, time wasters, crooks, freeloaders)? Use "Member Lookup" page in your CMD2.0 account to search info about that user. Go at Tools page ⇒ Lookup member page and insert his Skype ID.
How can I personalize my CMD20 profile? You can add a header picture, avatar, 6 seconds video preview, photos + videos gallery, connect interactive toys (comming soon), connect your twitter account and create your own store to sell videos/pics/time-blocks.
How can I give feedback for CMD (old or 2.0)? send us the feedback here: https://cmd.nolt.io
I still have questions, how can I get answers? You can ask us (or other models) in the private DIscord Server dedicated to CMD models [Join Discord Server], or send email to support @ cammodeldirectory,com or open a chat session with a live support representative (find the chat bubble in your account)
join this December: you benefit of 80% payout rate by default*
go up to 86% (with extra 6%) if you invite your members
CMD 2.0 vs CMD old:
comparison table of CMD2.0 vs CMD old starting 2022:
minimum 75% Payout
80% Payout
Prepaid
Pay Per Minute
Chargeback Protection
Bonus Raffle
Profile Ranking System
Video Store
Built-In Referral System
Extra Traffic From Affiliates
Member Lookup
Video Preview
Auto tweets
yes
only after $500
yes
no
yes
no
no
no
no
no
no
no
no
yes
yes*
yes
yes (optional)
yes
yes**
yes
yes
yes
yes
yes
yes
yes
FAQ
Do I have to create an account on CMD 2.0? No, but you will then lose your opportunity to earn more as a cam model.
How will I appear online? To appear online on CMD 2.0 you need to stay logged into the pay-per-minute windows app (Skype plugin). You are NOT required to do pay-per-minute Skype calls, only to stay logged in to copy the status from your Skype app to your CMD 2.0 status. For the moment you can be ONLINE ONLY on 1 PPM plugin-based website at a time, but a future update will allow to be online on multiple sites at once.
Do I need to delete my old profile and listings? NO, we will redirect the traffic to your new CMD2.0 profile page once you create an account.
*The 80% payout rate is available until Valentine's Day 2022 for all your CMD 2.0 platform earnings. If you do sales via CMD-old the rate there stays at 75% bellow $500 earned/period.
** The raffles will take place every 2 weeks. To be eligible for the raffle you need to earn more than $500 every raffle period (every 2 weeks) on CMD 2.0 platform.